New Orleans' lush palette and her vibrant Mardi Gras inspire the color and spirit of my jewelry.
Peridot, orange fire opal, pink rubellite and periwinkle tanzanite are among my favorites.
The world of gemstones is rich with exotic names. Lush grassy-green August birthstone peridot; it seems to get us a bit tongue tied.
How do you pronounce PERIDOT?
Rich 22k gold stacking rings in garnet, amethyst and peridot.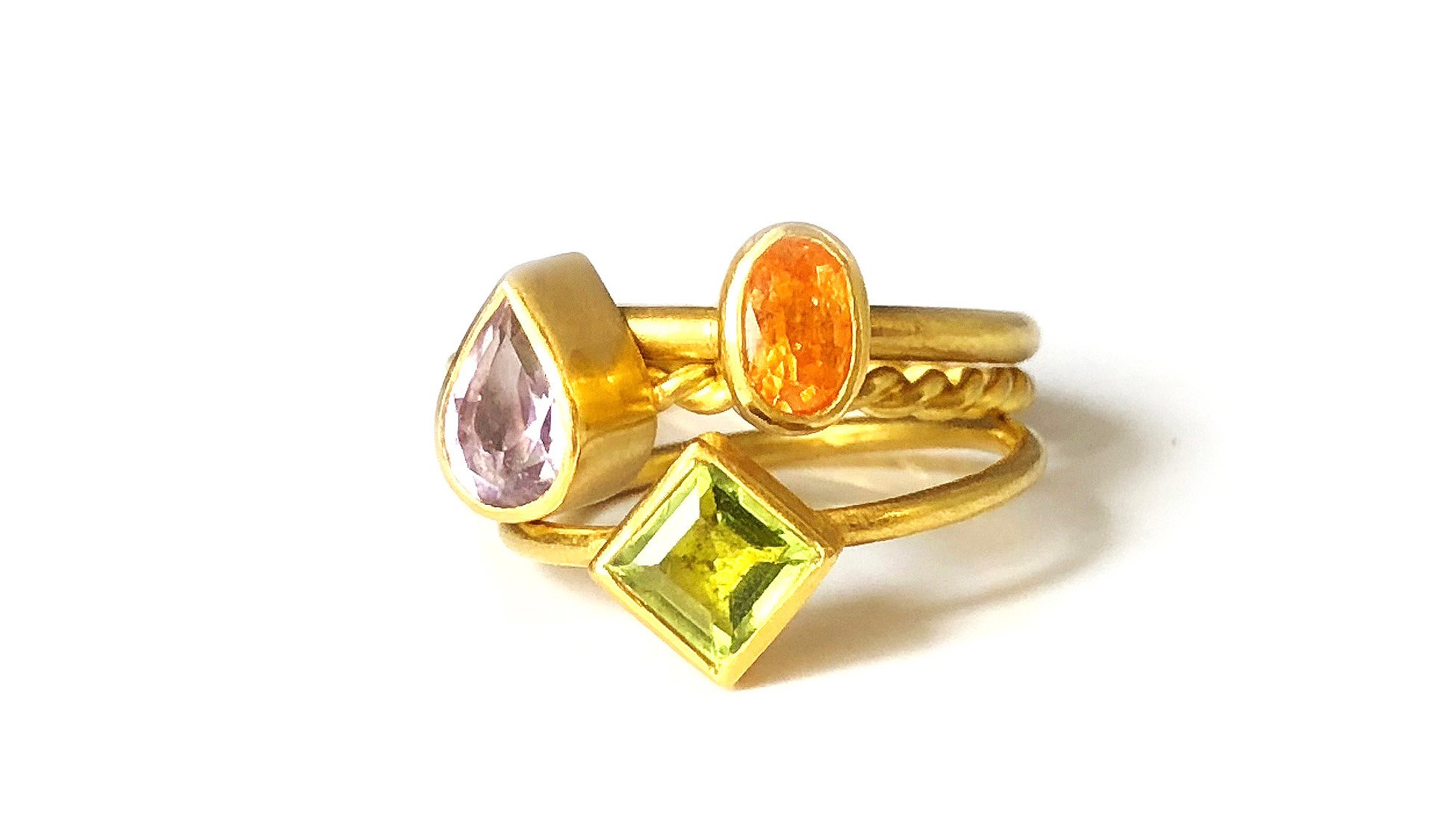 Peri-doe or Peri-dot?
Many dictionaries put the "pear-a-dot" pronunciation first, before "pear-a-doe". Some only have the "pear-a-dot" listed, for example "Webster's Encyclopedic Unabridged Dictionary of the English Language" is very definite and lists only one form, "per' i dot'".
Most gem and jewelry tradesmen use "pear-a-doe", and some are very definite in calling the "-dot" form as incorrect.
Peridot was first mined in quantity in the U.S. in the area of Peridot, Arizona. The name of that town is pronounced "pear-a-dot".
---
So which pronunciation is correct? Where you from, bae?
Like you, I'm a person of strong opinion.
PERI-DOE simply sounds prettier.
PERI-DOT is a clunky word and doesn't do the pretty gem justice. 🙂
---
My one of a kind rings feature peridot paired with other fun gems such as beryl, yellow sapphire and blue topaz.
per·​i·​dot
|
\
ˈper-ə-ˌdät
,
-ˌdō(t)
\
:

a deep yellowish-green transparent variety of olivine used as a gem.

French

péridot

, from Old French

peritot. Peridot is named after the French word peritot, meaning gold, because the mineral ovaline can vary towards this color.
A green semi-precious gemstone.

Peridot is the pure green, to a yellow-green or greenish-yellow crystal of the mineral olivine. It forms deep inside the Earth, and is brought to the planet's surface through volcanic activity.

A character from Steven Universe

, an animated television series on Cartoon Network. She has a green peridot

stone embedded in her forehead, green skin, and yellow hair suspiciously similar to a

Frito Lay

chip. She was originally evil and intent on using a bio weapon of sorts to explode the Earth, but eventually was converted to the

Crystal Gems

. She still retains her stubborn, egotistical and annoying personality, as well as her love of calling everyone else a "clod."
New Orleans' lush palette and her vibrant Mardi Gras inspire the color and spirit of my jewelry.

Harper Chalcedony and Peridot

bracelet with a cluster of 22k gold peridot rings.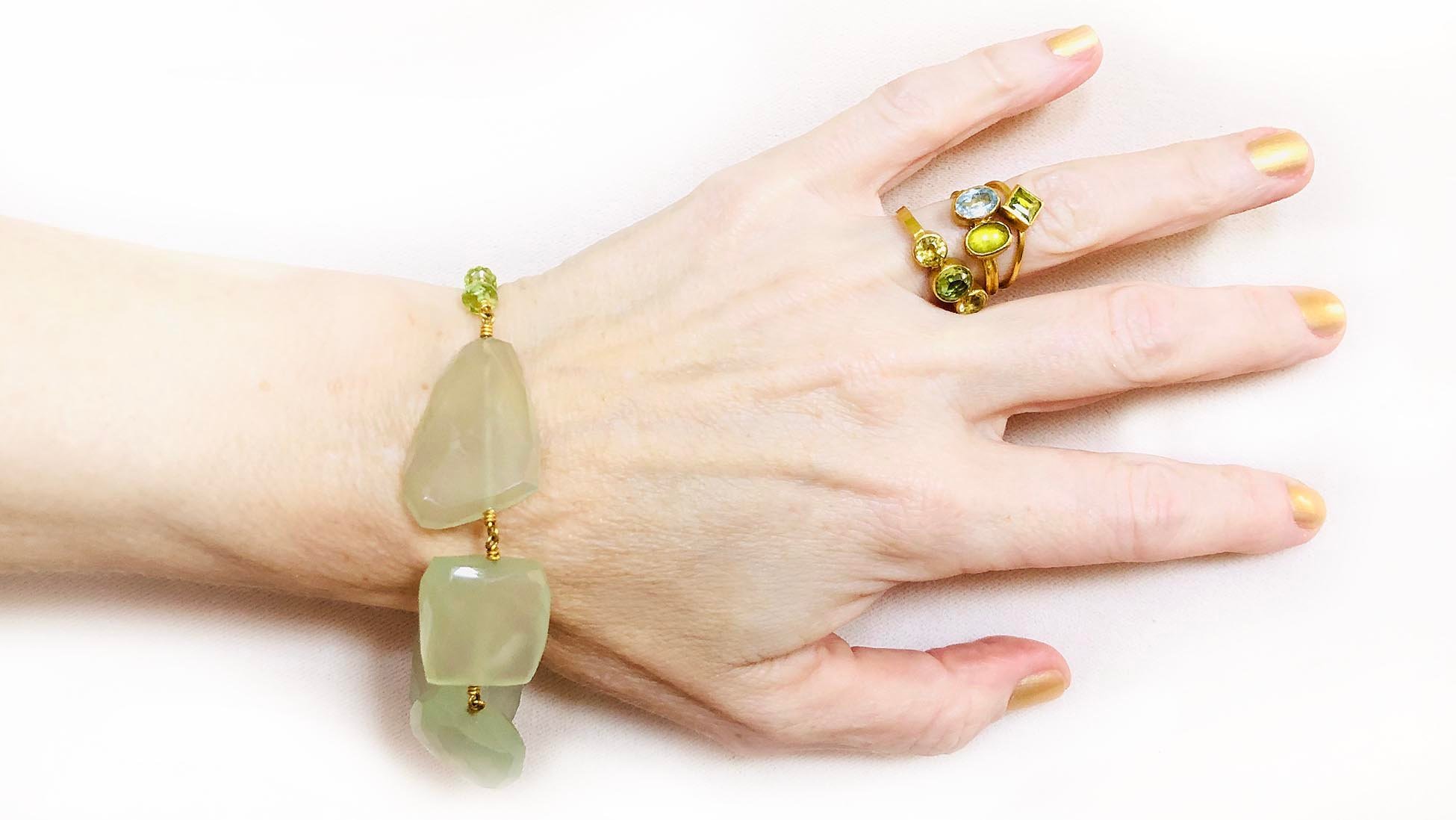 And then there's peridot fake news.
"Hawaii's Kilauea Volcano Is Literally Raining Gemstones Now, And We Want Some," said a headline on sciencealert.com, June 2018, with reports on the phenomena also picked up by newspapers and magazines. They all featured photos of small stones said to be olivine, which were tweeted by a woman who identified herself as a meteorologist in Arizona.
---
My Cosette Peridot Necklace is a classic wire wrapped chain; change it up with my pendants Libby, Jennie and Greta.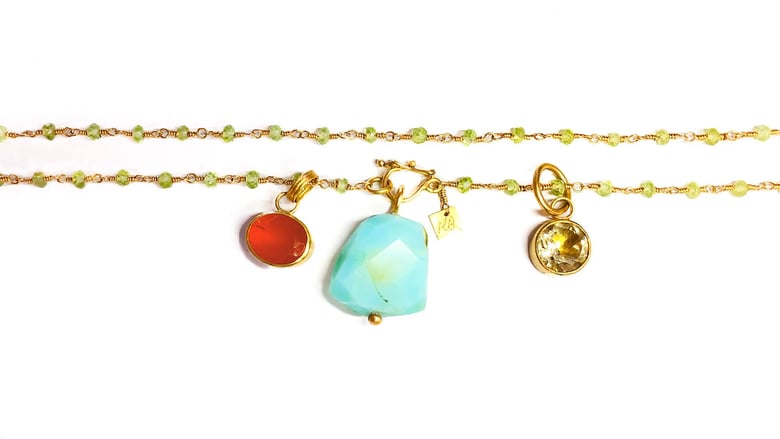 August babies, with peridot as your birthstone, you are envied.
It's the perfect gem for a special piece of jewelry.
I would love to custom design - collaborate with you - on a mother's ring, a pair of birthday earrings or a signature necklace. Start here & let's talk!
Custom mother's necklace with blue topaz, chrysoprase and peridot pendants for Mom's three boys.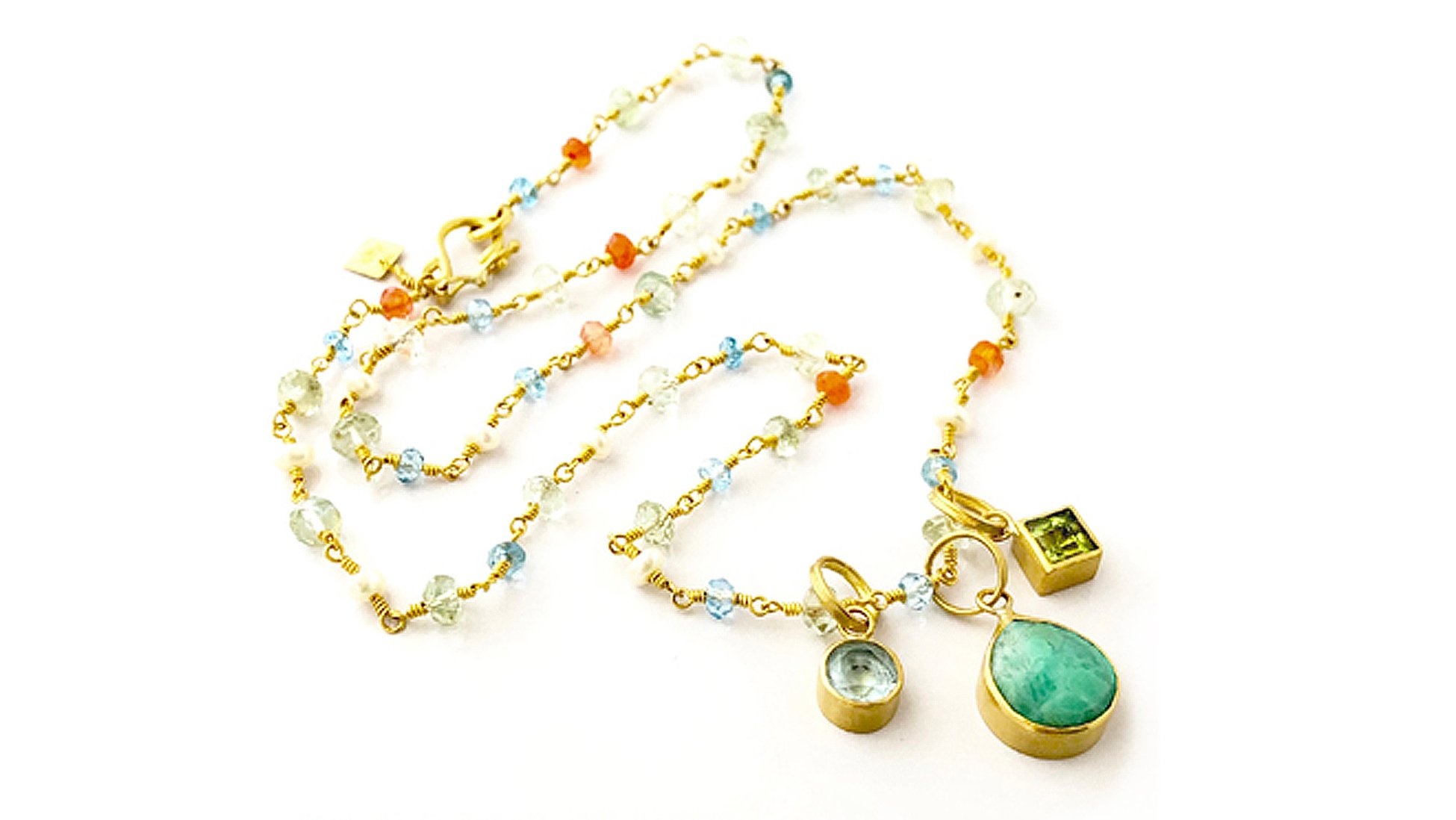 Custom peridot and chrysoberyl earrings.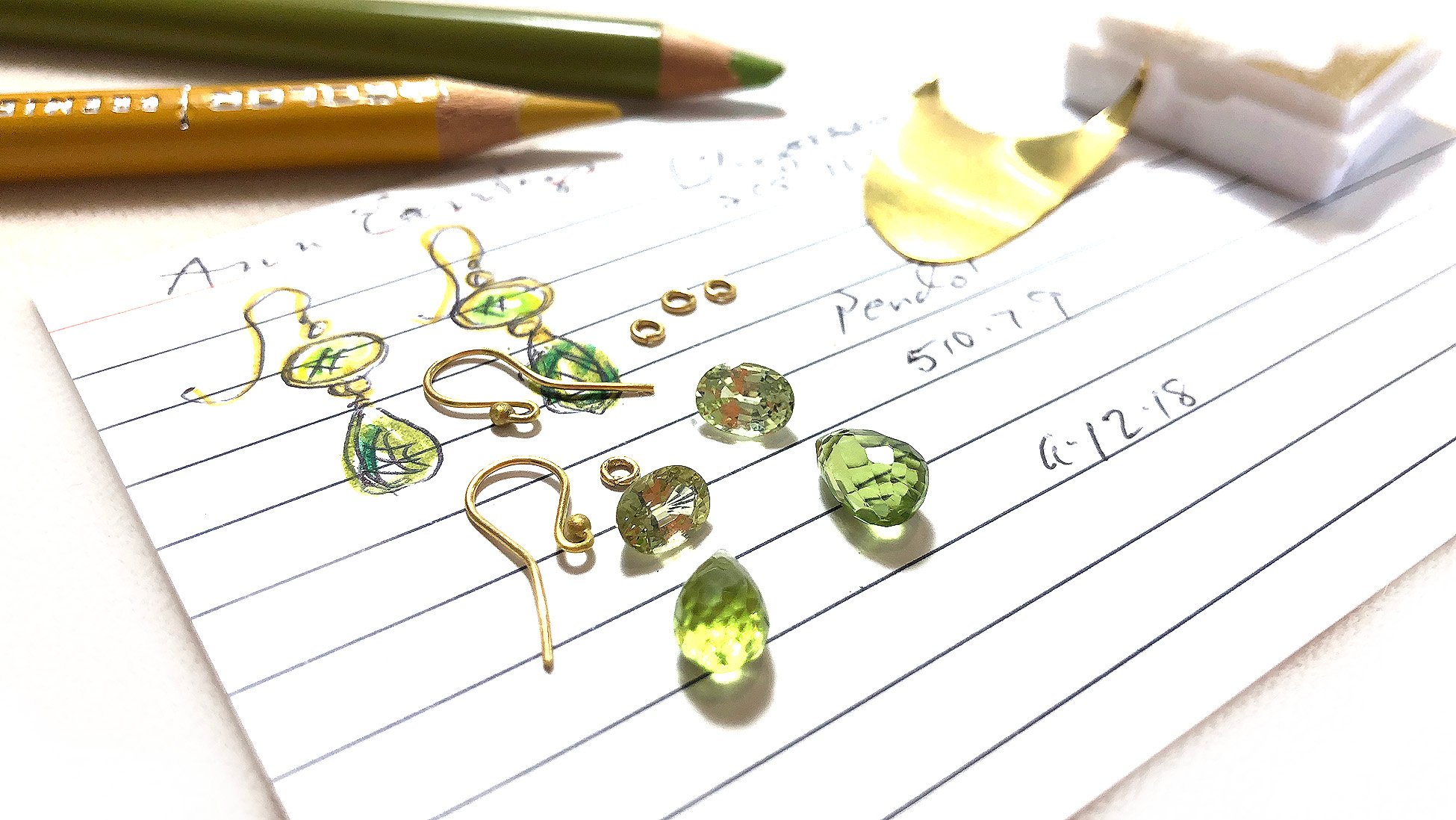 Katy Beh's Insider's Guide to New Orleans Jewelers
New Orleans is rich with talented jewelry designers. We all believe in the tradition of jewelry to express your style, celebrate a birthday or simply feel pretty.
As the saying goes – it takes a village – and the New Orleans jewelry designer community is as close as red beans on rice.
I curated this collection of New Orleans designers, artisans and retailers and believe all will surpass your contemporary jewelry expectations.
Not to mention, you'll be supporting our community by shopping small and locally.
Hope you stay in touch on my Facebook or Instagram profiles.. It's always a gas over there - it's where I let it rip!
XXO
---