Like wearing a candy necklace!
I think I gasped a little
You know when when something catches your eye and you think,
"Oh my GOD! That is so ME!"
The tourmaline quartz beads in my Jolly Rancher necklace had me near panting when I first saw them.
Six strands, about a foot and a half long each; all tied together hanging in a gemstone broker's booth in Tucson, AZ.
I swear they changed my life. 😜
The rich, clear colors were the epitome of jewel tones. These were irregular tumbled nugget beads - so fabulously in contrast to their royal hues. I LOVED that!
Those were the exact qualities I strive for in my jewelry designs.
AND THE COLORS....Candy-licious!
Jolly Rancher candies were Halloween Gold when I was a kid. Watermelon, Apple or Fire Stix were the only flavors back then. And the wrappers were always so sticky, but so worth it.
My favorite is the Apple. First, the green color is divine and the flavor? A little sour, tart, sweet; a perfect combination.
I don't think anyone would turn down a Watermelon Jolly Rancher. It's sweet and tangy and just overall enjoyable. If you don't like Watermelon Jolly Ranchers, you might be a crazy person.
You really have to be a sucker to keep Fire Stix Jolly Rancher burning in your mouth for as long as a hard candy lasts, but I'll certainly respect you if you do! They are painfully good.
My inspired necklace is a personal favorite. FYI: The colors of the quartz are achieved by infusing the gem crystal with color; they are dyed. The tint is stabilized and won't fade.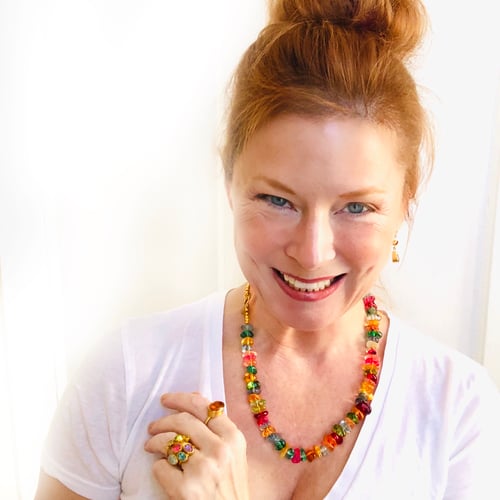 A signature Katy Beh piece. Carefully knotted on gold silk, each Jolly Rancher necklace is one of a kind. Intentionally - whimsically - asymmetrical, Jolly Rancher features a secure locking S clasp entirely handmade in 22k yellow gold and looks fab alone, layered or with a pendant (sold separately). Created using the ancient techniques of classical goldsmithing.
Fancy Tourmaline Quartz (dyed), Golden Pyrite
~ 420 total carats
22k yellow gold locking clasp
20" Long
Pendants sold seperately
Entirely handcrafted in 22k yellow gold by yours truly. And always, one of a kind.
Click here to book a private gallery appointment!

Learn more about my jewelry making techniques: