A precious Katrina baby rocks it!
One of my very good friends gave birth to her second child while Hurricating during Katrina.
I remember the first time I saw her and met her new daughter at Rouse's months later after returning to New Orleans.
Big blue eyes...perfect porcelain skin…a peanut!
Her mother had a nickname for her - Punky!
Punky had a fabulous habit of greeting people with her mouth wide open and tongue sticking way out - Gene Simmons of Kiss style. It was hilarious! And such an awesome reminder of life and joy in those dark, dark months.
Her mother is a huge fan of Gone With The Wind.
I'm not certain, but it could be the inspiration of Punky's given name Scarlett.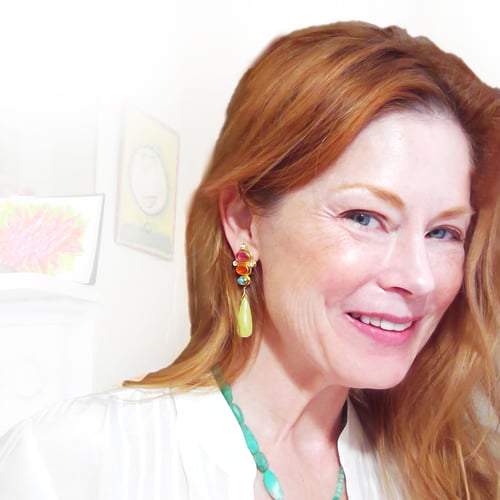 Bursting with color and life, but very ladylike and elegant as the beautiful young woman Scarlett has grown up to be.
A Katy Beh signature fancy mix of gemstones: rubellite, Mexican fire opal, apatite, white topaz and finished off with big chartreuse serpentine drops. I put omega clips on the backs of these beauties to make sure they'll hang properly on your ears. They're post earrings, but can easily be changed to clip. Created using the ancient techniques of classical goldsmithing.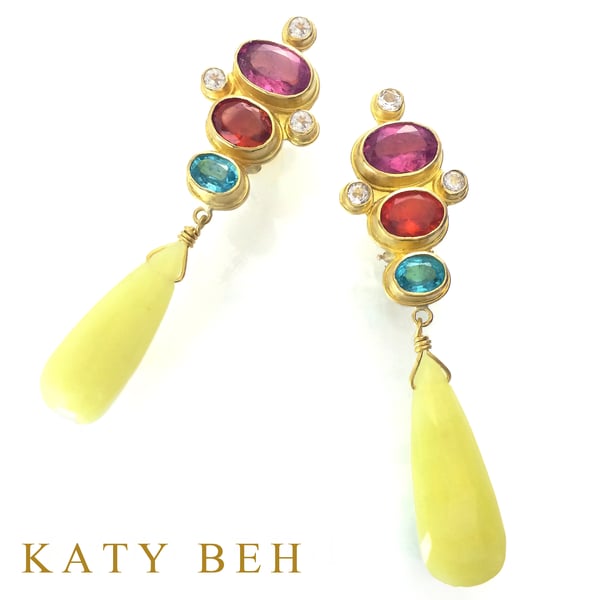 Rubellite, Mexican fire opal, apatite, topaz, and serpentine briolette drops
18k yellow gold posts and omega clip back
2 1/2" Long
Entirely handcrafted in 22k yellow gold by yours truly. And always, one of a kind.