"Katy, how did you get started making jewelry?"*
*WARNING! Long post. I'm freakin' 50 now so it's a long story!
Most jewelry designers' stories begin with macaroni necklaces.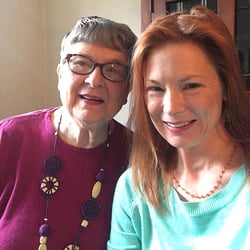 But me? Mine started with my artistic Mom in 1969.
My mom is a puppeteer. I grew up in a house surrounded by creativity.
There was always a sewing machine on the dining room table
Puppets in mid-creation in the breakfast nook
Our basement was a crafter's orgasm
Floor to ceiling fabric, trim, buttons, and yarn.
My mom saved everything, too. Because she was teaching puppetry classes and teaching kids how to make puppets, daily household throwaways were puppet making components. We saved egg cartons. We saved milk bottles. Toilet paper and paper towel tubes...dish soap bottles...all that. I learned to think as a maker straight out of the womb.
The first thing I remember making was so nerdy goofy in 1974.
Remember those Easter Seal stamps we used to get in the mail? For some reason, I felt the best Mother's Day present I could ever give my mom was an ant trap. An ant trap. Yep, I made an Easter Seal structure for trapping ants. Geek brilliance at age 5.
I took lots of classes at the Des Moines Art Center in the 1980's

Drawing, pottery, watercolors; every Saturday morning I was at the Art Center. But, with my mom the education director of the Community Playhouse in Des Moines, I took theater classes, too.
Sadly (or rather, fortunately), I really sucked at it. In fact, I got an emergency-room-worthy stomach ache the day I had to go on stage for the first time and be a duck. To this day, my family calls a nervous stomach, "duck tummy."
I took my first jewelry class in high school in 1984.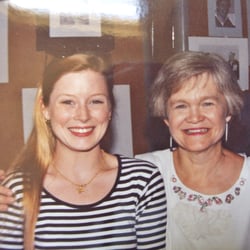 Awesome, right? I had the best teacher: Sue Lewis.
This woman taught creativity. She taught how to think creatively.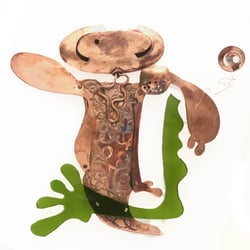 The art department was on the third floor with a really cool loft-like vibe. Every elective I took was art and jewelry.
Sue was also the jewelry teacher.
I remember that day clearly. My sister was standing on the front stoop holding a big huge envelope high above her head.
I said, "Where's it from?"
She replied (and you know when you got the big envelope you got in), "It's from RISD!"
And I'm like, "HOLY SHIT!"
My mom inside was whispering the same to herself...because it was so far from Iowa and so freakin' expensive.
But there was no way in hell I wasn't going.

And so, I majored in jewelry at Rhode Island School of Design. The Harvard of art schools. I thought about studying painting because I love color so much. I also did illustration and printmaking. But, jewelry really clicked with me because I love little tiny precious things. And making.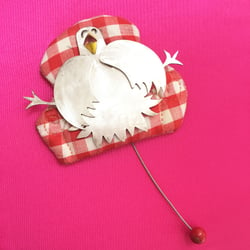 RISD is all people say it is. It was an incredible education. Intense and hard as hell. The RISD jewelry department was based on a foundation of German educators. It was a fine art jewelry education - conceptual. It was jewelry as art form. In fact, if you made something pretty, you were kind of frowned upon. But, it had better be made perfectly.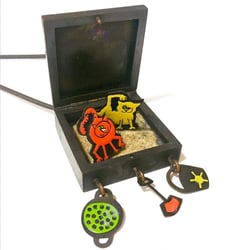 I reacted to all this sobriety with slapstick humor. Heh.
All nighters? Tears? You bet.
Oh yeah...I had student loans in 1991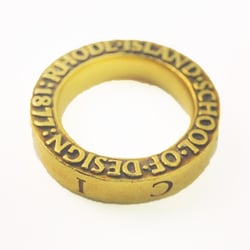 I was one of those Fortunate Souls who had a huge student loan to pay for college.
After RISD, I had to get a Real Job. I couldn't go jump out on my own and start making my own designs. No capital.
So, I ended up working for a whole series of designers for about 10 years.
Reinstein/ Ross in New York 1991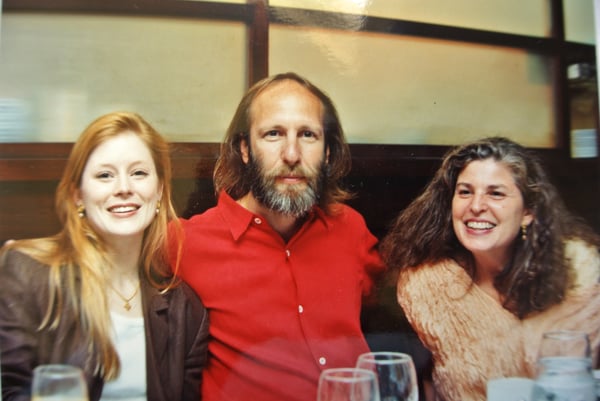 Susan Reinstein and Brian Ross were paramount in teaching me about the true beauty of jewelry. Working in sales, handling the jewelry everyday, watching the goldsmiths make every piece by hand in Susan's custom alloyed gold....did I mention the gemstones? I discovered precious. I began to value the centuries old techniques Reinstein/ Ross was preserving. I sold exquisite, unique one of a kind jewelry to clients in love and celebrating huge milestones in their lives. I saw the joy and importance of how feeling beautiful is when you're wearing jewelry. I fell in love with 22k gold and gemstones. I had discovered "pretty jewelry" again.
I moved to New Orleans in 1993
I continued working for designers after moving to NOLA in the summer of '93. I still wasn't making jewelry. I was always on the retail management or PR, marketing and advertising behind jewelry designers and artisans like:
Mignon Faget, Ltd
RHINO Contemporary Craft Cooperative
Thomas Mann Design
I became a know it all in 1998.
Full of myself in 1998, I opened Katy Beh Contemporary Jewelry on Magazine Street. I met so many of you as well as an incredible number of colleagues I'm still working with today. All of you were and continue to be wonderfully supportive of my Gallery and now making my own jewelry.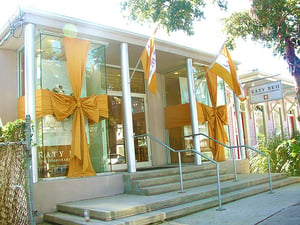 My Gallery rocked. I rocked. For 13 years it was the bomb.
I deeply loved it.
It was a lively creative outlet for me.
Choosing the designers and curating their collections was invigorating.
Advertising and marketing was so much fun
I loved the relationships I had with my clients
And there were some times that were really hard.
Regularly I was asked, "Where's your work?" I would say, "Well, you're looking at it. It's this creation! This business!"
They were impressed I went to RISD, but thought I was the jeweler. Some even went so far as asking why I was wasting my RISD education in retail. Ouch. Truth was I wanted to WANT to make jewelry. But I wasn't feeling it yet.
I didn't know what to make. It was really hard to be okay with that.
I'd always assumed my own jewelry company would need to be the same business model as the designers I was representing at my Gallery.
I didn't want to do that. I wanted to make. I wanted to be an artist.
I wanted to make one-of-a-kind pieces

I wanted to interact with my clients

myself

I wanted - needed - to wear all the hats
Finally, BAM in 2011.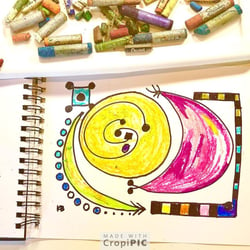 My vision finally solidified in 2011. I had become passionate about 22 karat yellow gold and knew that's the material I wanted to work with.
I'd also gone to a gem show in Tucson, Arizona (the big fancy gem show that you can't go there without the budget of a luxury car). I bought a handful of big, bright, juicy gems.
One afternoon after Carnival, I was playing with them on my desk. Their colors, textures, cuts and shapes all looked like Mardi Gras to me...beads, costumes, floats and throws. The thought of pairing them with 22k gold made me twitch. I closed my Gallery in two months.
Jewelry Arts Institute in 2011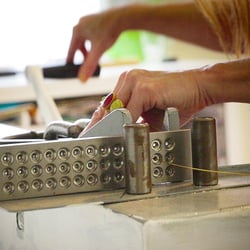 JAI is foremost in preserving the thousands-year-old craft of classical goldsmithing. When I closed my store spring 2011, I went to the Jewelry Arts Institute in New York to further my skill set as a goldsmith.
The rich history and tradition of making and wearing fuels my "why."
It connects me with an exquisite piece of our cultures' stories
I cleaned off the rust on my tools from college and got to work.
The biggest joy of my life is making my jewelry.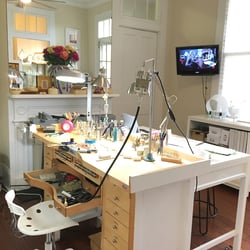 I work from home in my dining room - who eats anymore in their dining room? I sure don't (I sure don't cook either). I make one of a kind (OOAK) jewelry and each piece is made entirely by me from scratch.

A lot of young artists ask me about how I got started.
There's no right way. You find your journey to it. You live your way to it.
I'm so freakin' happy I finally figured out what I wanted to make.
AND, I love my journey to it.
It's absolutely worth it.😍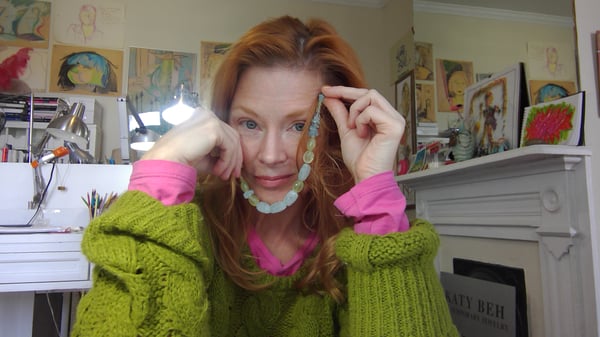 "The two most important days in your life are the day you are born and the day you find out why." —Mark Twain
XXO
SAVE THE DATE! My annual Holiday Show is Saturday, December 7th from 11am to 4pm. I would love to see you and catch up! Champagne!
Can't' make it? Message me here.